Welcome to Ken Hall Knives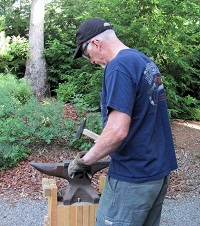 As a Bladesmith, I appreciate the art of creating a working knife from raw materials. Each blow of the hammer adds a nuance to the final shape and design of each knife and contributes to the uniqueness of each hand forged blade. After forging, I proceed to grinding away the fire scale and shaping the blade. Then, heat treating develops the balance of hardness and toughness so characteristic of a hand forged blade. Hand-sanding to a satin or polished finish gives each blade it's ultimate shape and luster. Next, the guard is crafted to provide protection for the user's hand and to contribute further overall embellishment. The final refinement comes with the shaping and finishing of the handle, where wood, bone, or horn is matched to shape of the blade and guard. The overall result is a unique handcrafted knife that is both a versatile tool and a work of art.
Thanks for stopping by. I hope you enjoy the efforts of my labor. I would be honored, if one day, you would desire to own one of my creations.
Ken
Journeyman Smith
American Bladesmith Society
See, it is I who created the blacksmith who fans the coals into flame and forges a weapon fit for its work. Isaiah 54:16 (NIV)